So great to be under the supreme law of the Colony!
Books.
My texts...
MBA INTENSIVO (with other autors)
My contribution to this MBA on a book, in Spanish.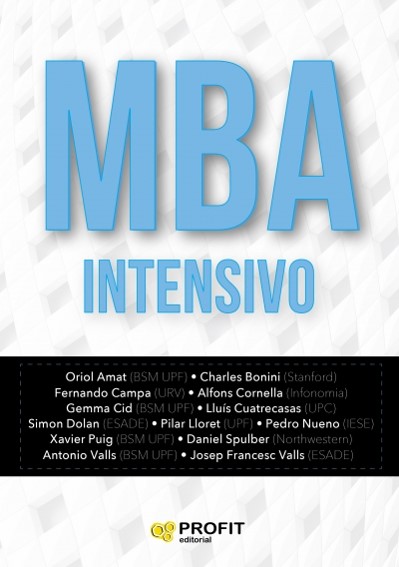 MBA Intensivo Autores: Oriol Amat, Fernando Campa Planas, Simon Dolan, Xavier Puig Pla, Antonio Valls, Lluís Cuatrecasas, Pilar Lloret, Josep-Francesc Valls, Gemma Cid, Charles Bonini, Alfons Cornella, Pedro Nueno, Daniel Spulber Conocer y perfeccionarse en las materias clave de un MBA El MBA (Master in Business Administration) es un programa de formación que proporciona los conocimientos y habilidades necesarios para poder desenvolverse en la dirección de las organizaciones. MBA intensivo trata, de forma estructurada y completa, los temas fundamentales que se imparten en un MBA. Para ello, desarrolla los principales conceptos, técnicas y enfoques que se manejan en este prestigioso máster, de la mano de profesores de primer nivel que participan en los MBA de las escuelas de negocios más reconocidas a nivel internacional. Un libro dirigido a quienes desean conocer y perfeccionarse en las materias clave de un MBA (dirección de empresas, economía, marketing, finanzas, contabilidad, recursos humanos, control de gestión, calidad, operaciones o habilidades directivas, entre otras) y que les permitirá: • Entender la estrategia y política de empresa. • Introducirse en la economía para directivos. • Comprender los conceptos clave de la contabilidad y el análisis de balances. • Desarrollar e implementar planes de marketing. • Diseñar estrategias empresariales. • Evaluar las principales decisiones financieras. • Aprender los diversos sistemas de gestión de la producción y operaciones. • Dominar las habilidades directivas necesarias para dirigir personas, equipos y organizaciones.
So great to be under the supreme law of the Colony!

(about 1 day ago)


RT @JosepLagares: Ens ajudeu a guanyar el Premi Enderrock al millor disc de Clàssica... si us ve de gust, voteu l'òpera LLULL de la ⁦@SCCCa…

(about 8 days ago)


My new book on education in an era of smart machines: Educar humanos en un mundo de máquinas inteligentes. In Spani… https://t.co/SKdsnwrEnX

(about 37 days ago)