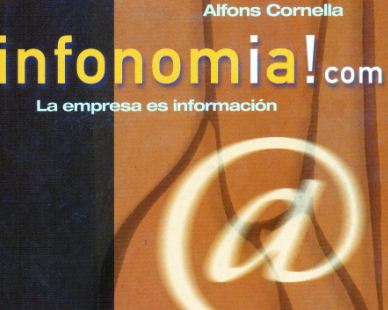 Infonomia. La empresa es información (2000)
ENGLISH ABSTRACT (book in Spanish)

Definitively, 'the book' or at least, my first serious book on information management. A premiere of what at that time was an emerging field, for which I adopted the term infonomics. If economics is the management of resources, infonomics is the management of information. The book was full of ideas on why organisations should be considered the result of information rather that the other way around. Companies are information. Beyond that, the text addressed issues such as information policy, information audit, and information brokerage. Topics, by the way, that were rather new at that time. I even dared to propose what I called "the fundamental equation of an information society": E*C=S. Any information society S is the result of the combination of an information economy (resources, hardware, infrastructure) E with an information culture (knowledge, software, infostructure) C. The book acted as a sort of manifesto for our business project Infonomia.com, the project to which I have so far devoted most of my professional life.


RESUMEN EN CASTELLANO (texto en castellano)

En definitiva, «el libro «, o al menos , mi primer libro serio sobre la gestión de información. Un primer texto sobre lo que entonces era un campo emergente, que me atreví a calificar de » infonomía «. Si la economía es » la gestión de los recursos «, la infonomía debía ser «la gestión de la información» . El libro estaba lleno de ideas sobre por qué las organizaciones deben ser vistas como unresultado de la información que manejan más que a la inversa. Las empresas son información. Además, el texto aborda temas como las políticas de información, la auditoría de la información, la intermediación de información, temas que eran bastante nuevos en ese momento . Incluso me atreví a proponer lo que llamé, con algo de vanidad, «la ecuación fundamental de la sociedad de la información»: E * C = S , cualquier sociedad de la información ( S ) es el resultado de la combinación de una » economía de la información » ( E) ( recursos , hardware, infraestructura) con una » cultura de la información » (C ) (conocimiento , software, infoestructura ) . El libro actuó como una especie de manifiesto para nuestro proyecto Infonomia.com : el proyecto al que he dedicado la mayor parte de mi vida profesional.