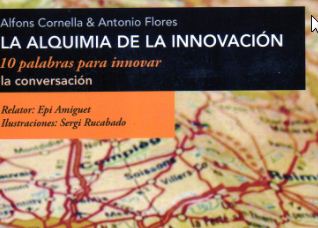 La alquimia de la innovación (2007)
ENGLISH ABSTRACT (available in Spanish and Catalan; co-Author: Antonio Flores)

This is 'the book' about innovation practice that I had the opportunity to write with one of the most respected practitioners in the field, Antonio Flores. We took ten words that have some relevance in innovation, at least according to our experience, and we used them to explain what we knew about real innovation – the innovation developed by real companies. Beyond any temptation to the theoretical, the book helps to understand why innovation should start with an attitude and be continued by a system, while being managed by a team. We liked the term alchemy rather than method or science, since in our understanding there is a lot of art in crafting innovation in any organisation. The book was also published in Catalan, and had two related editions, one available in bookshops and the other distributed with a newspaper as a Sunday offer.


RESUMEN EN CASTELLANO (ediciones diversas, en castellano y catalán; coautor: Antonio Flores)

Este es «el libro» sobre la práctica de la innovación que tuve la oportunidad de escribir con uno de los profesionales más respetados en el campo, Antonio Flores. Nos las arreglamos para recorrer 10 palabras que tienen alguna relevancia en innovación, al menos de acuerdo a nuestra experiencia, y las usamos para explicar lo que sabíamos acerca de la verdadera innovación, la innovación desarrollada por empresas reales. Más allá de cualquier tentación teórica, el libro ayuda a entender por qué la innovación debe empezar por una actitud y debe ser seguido por un sistema, mientras es gestionado por un equipo. Nos gustó usar el término «alquimia » en lugar de «método» o » ciencia «, ya que, a nuestro entender, todavía hay un montón de «arte» o «artesanía» en el despliegue de la innovación en cualquier organización. El libro también tuvo una versión en catalán, así como dos ediciones relacionadas, una disponible en librerías y la otra distribuida con un periódico, como un paquete de regalo dominical.