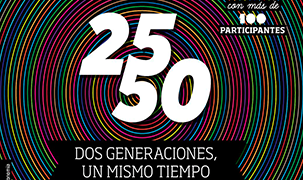 25/50: Dos generaciones, un mismo tiempo (2011)
ENGLISH ABSTRACT (book in Spanish; co-author: Berta Segura)
A graphical book that I had the pleasure to write with Berta Segura. It all started during a lunch: we decided to draw a map on differences between our generations (Berta had turned 25 as I turned 50). We engaged around 100 people, belonging to our different generations, and we asked them to define their thoughts across 7 words: passion, work, style, love, future, etc. In each chapter we used a different "format": a chat while addressing work life, photos when the issue was passion, music for love, and artifacts when the future was the main concern. The result did show that there were no real differences between our age groups: some young people felt pretty conservative as some old people thought their life was still to explode. In a first chapter we managed to summarize the ideas in a graphic way -thanks to Edmon de Haro's wonderful graphical skills. A collaboration that has continued in several books afterwards.


RESUMEN EN CASTELLANO (texto en castellano; coautora: Berta Segura)

Un libro gráfico que he tenido el placer de escribir con Berta Segura. Todo comenzó durante una comida: nos decidimos a hacer un mapa de las diferencias entre nuestras generaciones (Berta había cumplido 25 años cuando yo cumplí 50). Consultamos en torno a 100 personas, pertenecientes a nuestras dos generaciones, y les pedimos que definieran sus pensamientos a través de 7 palabras: pasión, trabajo, estilo, amor, futuro, etc. En cada capítulo se utilizó un «formato» diferente: un chat sobre la vida laboral, fotos cuando el tema era la pasión, música para el amor, y artefactos cuando hablábamos del futuro. El resultado mostró que no había diferencias reales entre nuestros grupos de edad: algunos jóvenes se sentían bastante conservadores , y algunos adultos pensaban que su vida estaba aún por explorar. En un primer capítulo nos las arreglamos para resumir las ideas de una manera gráfica, gracias a las habilidades de Edmon de Haro.