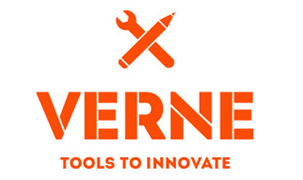 VERNE: Tools to innovate
ENGLISH
Verne is a workshop aimed at learning how to become innovative in just one day. It's the result of 15 years of experience in helping all kinds of businesses and organisations to develop their innovation culture and innovation processes.
The model is made up of four different phases: ANALYSIS of the current business model, to assess how it creates value and what its strengths and weaknesses are; EXPLORATION of opportunities, to detect and learn about new products, services, and processes with potential marketing possibilities; PROTOTYPING the new product, service or process, to facilitate a fast reiterative process based  on direct feedback from potential customers or users; and ACTION, to convert the opportunities identified into specific value proposals that can be incorporated into the business model.
The model incorporates several tools for analysis (templates) and specific examples of innovation processes in European companies (short videos), and is accompanied by a book with a full explanation.
CASTELLANO
Verne es un taller que permite aprender a innovar en un solo día. Es el fruto de nuestra experiencia de 15 años ayudando a empresas y organizaciones de todo tipo a desarrollar su cultura y procesos de innovación.
Esta experiencia acumulada a lo largo de todo este tiempo nos ha llevado a sintetizar un modelo de innovación que se configura en cuatro diferentes fases: ANÁLISIS del modelo de negocio: con el objetivo de conocer cómo el modelo de negocio vigente genera valor y qué fortalezas y debilidades presenta; EXPLORACIÓN de oportunidades: con el objetivo de conocer nuevos productos, servicios, mercados o procesos con potencialidad de oportunidad; PROTOTIPAJE del nuevo producto, servicio o proceso:  con el objetivo de facilitar un proceso de iteración rápido y sencillo que tenga como base un feedback directo por parte de potenciales clientes o usuarios; y ACCIÓN: con el objetivo de convertir las oportunidades detectadas en propuestas de valor concretas que puedan ser incorporadas al modelo de negocio.
El modelo incorpora herramientas de análisis (plantillas de trabajo) así como ejemplos concretos de procesos de innovación en empresas europeas (videos breves). Se acompaña con un libro descriptivo del modelo