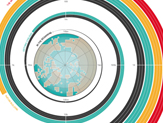 The infographic history of the World
A wonderful visual presentation of relevant data about the history of Humankind, by Valentina D'Efilippo and James Ball. From the very beginning (how the planet came into being, how we got civilized, how nations were built) to what is really relevant in today's world. Available here.
The book uses many a resource to make hard date attractive. In a society where focus on big data will stop no sooner, those examples of visual information are very inspiring. A must.