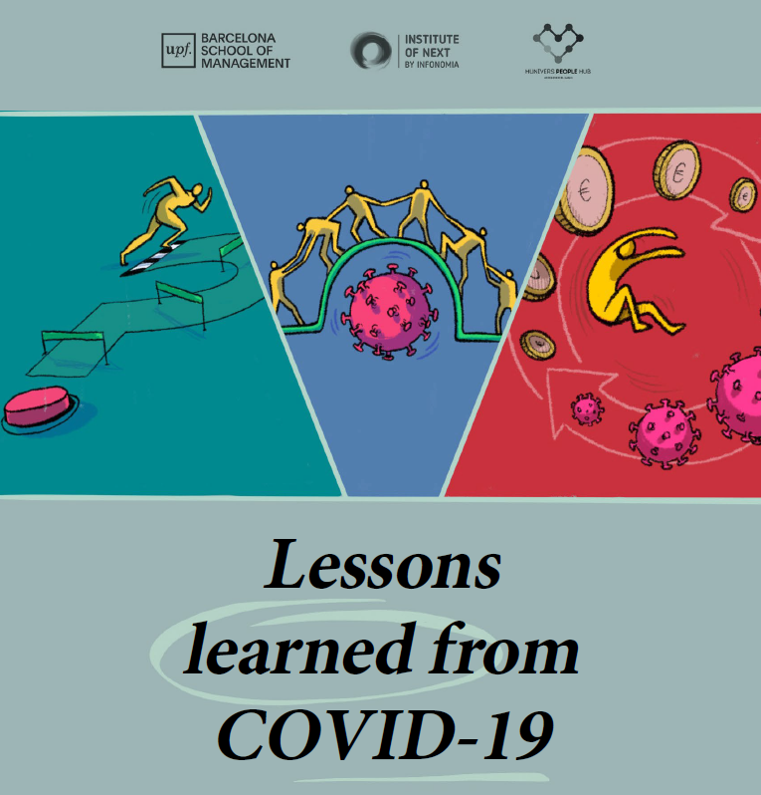 LESSONS LEARNED FROM COVID19 (ENG, ESP, CAT VERSIONS)
A book about the learnings shared by some business people during the  covid19 pandemics.
Written by Oriol Amat, Esther Casademont and myself.
INTEGRAL VERSION IN THREE LANGUAGES (ENG, ESP, CAT):
llibre PEERS Pindoles_tres idiomes
VERSION ENGLISH
VERSION IN SPANISH
VERSION IN CATALAN
Some people saw it coming, but for the most
part their forewarnings fell on deaf ears. The
2020 pandemic will forever be burned into
our memories, opening our eyes to the fact that
impossible nightmares can come true. It has reminded
us of the world's fundamental complexity,
and made us realize that to solve global issues we
need to find the connection between seemingly
unrelated factors. It has shown us that we cannot
keep working focused only on the near future. Those
who fail to prepare themselves, invest and learn
with a forward-looking approach are doomed to
watch helplessly as everything around them evaporates.
Indeed, long-term foresight is key.
From the moment that the first lockdown was announced
in March 2020, we began to take an interest
in analyzing what we were all learning. A team
of professionals from the BSM-UPF (Barcelona
School of Management, Pompeu Fabra University),
the consulting firm Hunivers, and the Institute of
Next began interviewing businesspeople and executives
in order to find out what they were learning
from this situation.
Our attention focused on three main questions.
First, how are people and work teams changing
(new ways of working, relationship models, problems
arising from new situations, etc.)? Second,
what innovative actions are companies taking as
their response (updating business models, using
digital technologies, changing supply chains, etc.)?
And, finally, how citizens' and companies' financial
situation was changing as a result of the COVID-19
crisis?
We encapsulated our findings from these interviews
into a series of weekly "pills" that we shared
with the project participants and eventually made
accessible to everyone through social media and
other digital platforms in three languages: English,
Spanish and Catalan.