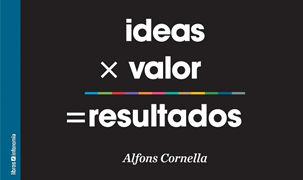 Ideas x Valor = Resultados (2013)
ENGLISH ABSTRACT (book in Spanish) 

This text summarises everything we know today about how the world's best innovative companies. After reading many academic articles, case studies, companies' examples, and other relevant information, we described what experts say today about what, where and how to innovate, and with what equipment. The references to companies are continuous, although we didn't go into detail of individual cases due to the light nature of the book. However, this book is not a manual of innovation or a guide to how is it done; it's about how do others do it.


RESUMEN EN CASTELLANO

Este texto resume todo lo que sabemos hoy acerca de cómo las mejores empresas del mundo innovan. Después de leer muchos artículos académicos, estudios de casos , ejemplos de compañías, etc., describo lo que los expertos dicen hoy sobre qué, dónde y cómo innovar, y con qué equipo. Las referencias a las empresas son continuas, aunque no profundizamos en sus casos concretos, debido a la naturaleza "ligera" del libro. Este texto no es un «manual de innovación» – no se trata de «cómo se hace», sino de «¿cómo lo hacen los demás».